Our Lady of White Lake Council 12985

 

KNIGHTS OF COLUMBUS

5149 Dowling, Montague, Michigan 49437
.
---
FIELD AGENT
Joseph M. Tackz, FIC
PHONE:  231.865.1230
EMAIL: [email protected]
---
– Program Information Links –
A Little about our Insurance Program and History
Fraternal Benefits Night-160131 – Agent Joseph Tackz
Wills & Trust – 160131 – Attorney Al Abrams
–
–
–
–
---
–
Family Fraternal Benefits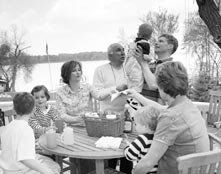 Being a member of the Knights of Columbus is an opportunity to be part of the largest Catholic lay organization in the world. Being an insured member means you've taken full advantage of the benefits of membership. Avail yourself and your family of our full line of life insurance, retirement and long-term care products and you'll help chart a course to safe waters in your financial future.
In addition to our strong, secure products, there are Family Fraternal Benefits that can help our members facing unique needs. Many of these benefits are unique to the Knights of Columbus and our members. Some of these benefits include:
Guaranteed life insurance benefits for uninsurable children
Death benefits available for stillborn or miscarried children
Orphan benefits
Member/spouse accidental death benefits
To learn more about these contact your agent.
---
Knights of Columbus Insurance
Since our founding in 1882, the primary mission of the Knights of Columbus has been to protect families from the financial ruin caused by the death of the breadwinner.
In the beginning, Venerable Father Michael J. McGivney and his fellow Knights "passed the hat" to benefit widows and orphans.
From that humble start, the Order has grown to include top-rated life insurance, long-term care insurance and retirement products.
 With more than $99 billion of insurance in force and a full-time field force of more than 1,400 serving our members and their families, we are proudly fulfilling Fr. McGivney's vision.
The best way to learn about our products is by arranging a visit with a local field agent. Your agent can custom design an insurance program to meet your current needs, help you plan for the future or simply explain the many fraternal benefits that come with membership. To contact the agent in your area, use our convenient Find An Agent feature.
To learn more about insurance or our products, please use the links on this page. To get a rough estimate of the amount of life insurance protection you and your family need, use our Life Insurance Calculator. The Knights of Columbus is Your Shield of Protection for Life.
---
Insurance Q & A
Do I need life insurance?
Yes, the chances are you do need life insurance, whether it's for paying funeral expenses, replacing income, providing for your child's education, protecting your home, or some other financial reason. Unfortunately, too many people don't know the value of a life insurance policy and either go without any or settle for inadequate coverage. Check out our life insurance calculator to see where you stand.
Is the Knights of Columbus financially strong?
Yes. There is simply no more highly rated life insurer in North America than the Knights of Columbus. As of August 2015, the Knights of Columbus has earned A.M. Best's highest rating for financial strength (A++, Superior) for 40 consecutive years. In addition, our margin of safety is among the best in the industry.
What exactly are dividends?
Dividends are the divisible surplus the Order has left over after paying expenses and setting aside the necessary amounts to assure that future benefits are fully funded. Dividends develop from favorable experience, such as people living longer than expected or from interest earnings higher than those guaranteed in their policy. Remember, the payment of dividends cannot be guaranteed.
If I have questions about my insurance policy, or have an interest in learning more about the products the Order offers, whom should I ask?
Your professional Knights of Columbus agent can answer any questions you may have. Even if you are not currently a policyholder, a field agent, who is also a brother Knight is available to meet with you at your convenience the needs of you and your family. To identify your agent, call 1-800-345-KOFC (1-800-345-5632) or click here to find your agent online.
U.S. residents who would like additional information concerning life insurance, long-term care insurance or annuities, may wish to view the Web site of the American Council of Life Insurers. Canadian citizens may wish to view the Consumer Assistance Centre of the Canadian Life and Health Insurance Association.
Occasionally, someone speaks out publicly on behalf of the merits of permanent life insurance. CNBC interviewed investment professionals, Joe Heider of Dawson Wealth Management and Adam Sherman of Firstrust Financial Resources, that are advising their clients on the advantages of owning permanent life insurance as part of their client's overall financial planning strategy.Watch this short video from CNBC as the advantages of owning permanent life insurance are discussed.
---
–