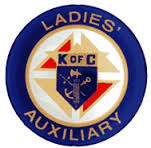 Ladies Auxiliary – The Ladies Auxiliary is a Catholic organization formed for the following purposes;
To enhance spiritual growth in faith and sociability among the members.
To engage in charitable and civic endeavors.
Membership eligibility includes – All wives of Knights; Widows and adult daughters of Knights age 18 and older; and Catholic women and all men not eligible for Knights membership. Members of the Auxiliary must be Catholic.
.
Meetings: First Tuesday of every month at 6:30 p.m.
Where: St. James Parish Library
President: Jennifer Beatty [email protected]
---
August 2016:
The Ladies Auxiliary site has been relocated here from the Saint James Catholic Parish Montague site. From this date forth all new information will be loaded here. We will retain for now our pre-site information at our old location. This information can be found by clicking onto the "Archive" icon below.
---
.
.
.
.
.
.
.
.
.
---