Event Cancelled:
March 21st, 2020:
Congratulations Fish Friars!!!
As you know our 2020 Lenten Fish Fry is closed for the rest of this year, but…… we have retained the title of "Best on the Lakeshore" in WZZM13 Fish Fry Frenzy!!! We advanced to the "Fishy Four". You know how good our Fish Fry is! Since most of us are holed up in our homes, keep boredom from setting in by VOTING once a day through next Thursday evening!
Last week we asked our parishioners to purchase surplus fish. Everyone stepped up so BIG. We sold out of everything in less than an hour!…. and there wasn't any toilet paper included!!
Though we did not finish the last 3 weeks ($$$), your generous gift of time is very much appreciated! Perhaps a couple of spaghetti dinners this year can help make up for the losses of these 3 weeks of Fish Fry and help to support some of our good causes.Once again, Thank You for everything and keep voting!!!Stay Healthy & Well.
Tom & Carol
__________________________________________________________________________
.
March 18th, 2020:
Dear Fish Friars,
With regret the Knights of Columbus has cancelled the remaining 3 weeks of our Lenten Fish Fry. Thank you all so very much for your past help as volunteers to put on this amazing event! Our Fish Fry is a decades old community event that benefits many charities. We are deeply privileged to be part of it's philanthropy. It is best for our parish to stay healthy & well. Remember the definition of quarantine: a period of 40 days…. or the time Jesus spent in the desert ~ our Lent.
Thank You again for ALL your work! Be healthy & well!!!
God Bless,
Tom & Carol
PS: We have lots of cartons of bulk frozen fish to sell.
Perch – 11 lb. case = $65
Walleye – 11 lb. case = $60
Shrimp – 10 lb. case
Pick Up Time to Follow! Thank You!
______________________________________________________________________________
.
OUR LADY OF WHITE LAKE
Lenten Fish Fry 2020
---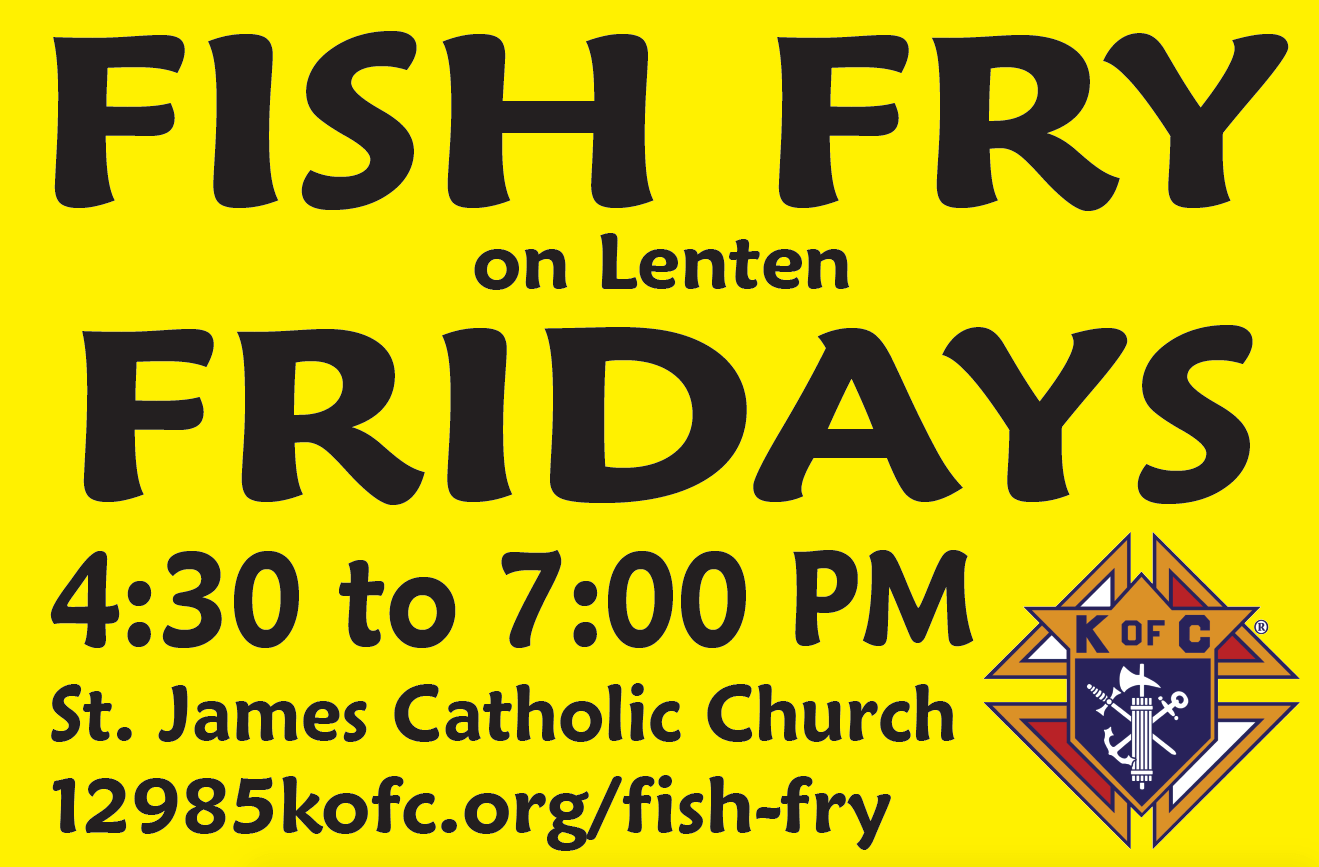 – DATES –
FEBRUARY 28th
MARCH 06th
MARCH 13th
MARCH 20th
MARCH 27th
APRIL 03rd
DINNERS SOLD:
760
865
TOTAL SOLD:
2020
760
1,625
---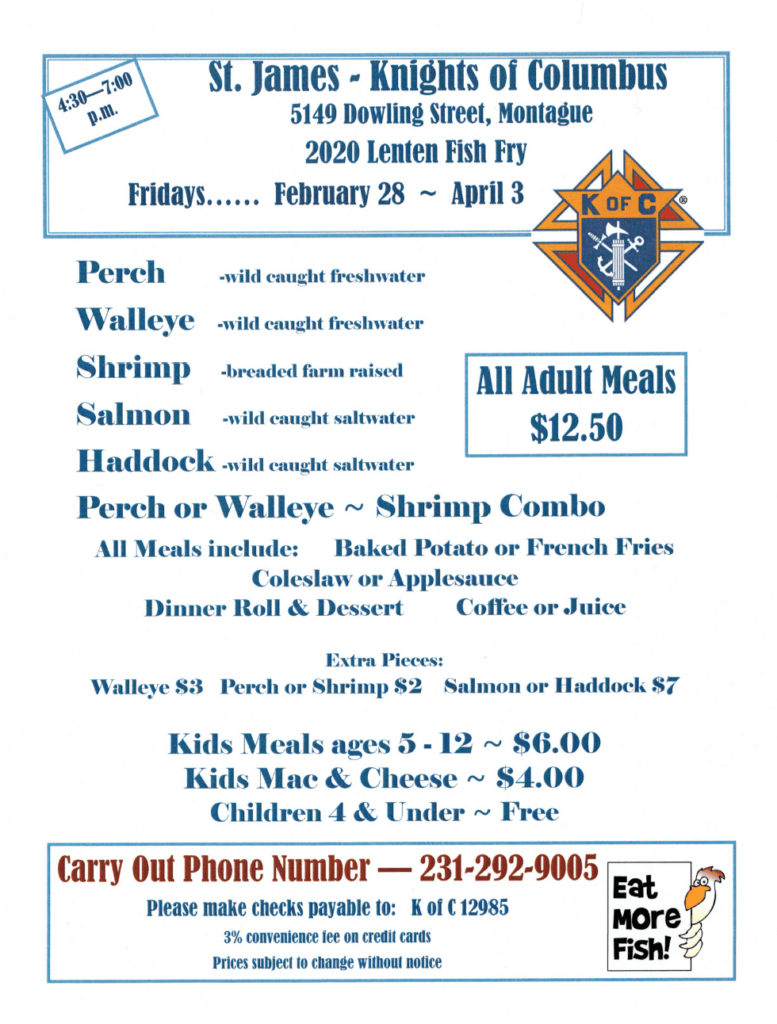 PHONE IN ORDERS:
phone: 231.292.9005
---
VOTE :
.
---
March 28th, 2020:
13 ON YOUR SIDE Fish Fry Frenzy 2020: The Finals
Thousands of votes have been cast and here is the championship round!
We're on a mission to find the best fish fry in West Michigan. Thousands of votes have been cast over the past several weeks, and we have now made it to the championship round!
St. James Montague will be defending its 2019 title, after beating American Legion 47.
They will be taking on Christ the King from Howard City, which took down Grand Rapids regional winner St. Isidore.
Here is your updated bracket:
Photo by: 13 On Your Side
St. James Montague and Christ the King in Howard City are the Fish Fry Frenzy finalists
Below, you can vote for your favorite fish fry in The Finals! You can only vote once. You have until Thursday, April 2 at 11:59 p.m. to do so. We will announce who is moving on to the Championship Round on the Friday, April 3 edition of 13 ON YOUR SIDE Mornings.
MORE on 13 ON YOUR SIDE:
---
.
March 6th, 2020:
We receive a message of congratulations from TV13's Brad Ivey for scoring high enough to enter round 2 of their Fish Fry Frenzy. A new link for this week was given and the change was made to the above link. Please continue to show your support and vote through the link above…
---
Over the past several years the TV13 in a show of support to all the Lenten Fish Fries in West Michigan has held their Fish Fry Frenzy Contest. In 2018 our fry here at St James came in 2nd, and last year we scored 1st place. We again are asking for your support in this contest. The free advertising really helps sell the dinners. Please click onto the "Vote St James" above. This will bring you to their voting page. Once there, scroll down until you find St James Montague. Click on an cast your vote. Please know your support is greatly appreciated…
---
COMMUNICATIONS:
.
March 14th, 2020:
Fish Fryers,Our effort to prepare for yesterday's Fish Fry was outstanding! Thank You!!! The following are the words of our Grand Knight Dave Sipka:
"Good job everyone! This evening's Fish Fry was historic. These are unprecedented times and the Governor's order and the Bishop's directives have made our next offering to our community clear in terms of the limits of what we can do. We will all remember this year. God's hand is in all of this even if it isn't clear to us now. The charity, unity, fraternity, and patriotism displayed by all who have pulled together to make this evening work is a true reflection of the standards of our order.- GK Dave"
We will have 2 carryout lines next Friday, March 20th. The Dining Hall is closed.Confirmation on this will be sent Tuesday via this Fish Fry email.Thank You for ALL you do!May God Bless All of You and May God Bless Our Country!
Tom & Carol
---
.
March 13th, 2020:
Hello Fish Friars!Since Wednesday we have prepared 900 desserts, breaded fish, cleaned & wrapped 450 potatoes, etc, etc.It's been decided to keep the Dining Hall open this evening with reduced seating to allow people extra space to sit. To give our customers an option, we have a limited amount of hand sanitizer. All our sources are out of hand sanitizer. We will buy more sanitizer if you have some to spare. Remember washing your hands with ordinary soap for 30 seconds…… or saying a "Hail Mary" while you wash does the same thing. The Dining Hall will be closed next week Friday.
Carry Outs will be OPEN!
Thank you for your understanding. In contrast, the Fish Fry Frenzy seems unimportant. However, our competitive spirit is still alive! We have advanced to the "Edible 8" in WZZM13 Fish Fry Frenzy! We are pared with Ludington Catholic Schools who's moms and dads vote everyday. Remember to VOTE daily through next Thursday. Go to WZZM13.com & search Fish Fry Frenzy Edible 8. It's St. Patty's Day Celebration tonight! Wear your GREEN!!!Thank You Everyone for ALL your hard work during this unusual week!
Tom & Carol
---
.
March 12th, 2020:
Hello Fish Friars!
On Friday we will be celebrating St. Patrick's Day! Show up with your best shade of green. Since Wednesday, we prepared a lot of food and are hoping to sell a lot of fish! Let your friends know we are open! We probably won WZZM13 Fish Fry Frenzy "Saucy 16" and hope to be competing in the "Edible 8". Voting is daily from Friday until Thursday 12:00 a.m. We will let you know about the Fish Fry for next Friday.Tom & Carol
---
.
March 6th, 2020:
Hello Fish Friars!!!What a Night!!!We served an extremely successful 865 meals on our 2nd Fish Fry of 2020! A BIG Thanks to ALL of our wonderful Volunteers who made this happen!Remember that every penny we make is returned to the good causes in our community. As Fr. Peter says "it takes teamwork to make the dreamwork". We knocked it our of the park!!
The Fish Fry Frenzy is happening at WZZM 13 again this year! We have advanced the the "Sweet 16"! Please VOTE for St. James Knights of Columbus: links below……..
[ KC Fish Fry Page Link ] [ Parish Facebook Page ]
[ TV13 Fish Fry Frenzy Voting Link ]
VOTE as Carol & Tom's Chicago origins…. Vote Early! Vote OFTEN! Vote from now through Thursday. Thank You and God Bless All of You!
Tom & Carol
---
.
February 29th, 2020:
Hello Fish Friars!Our "Patriotic" night was a great success! We served 64 Military, Veterans, Police & Fire 1st Responders!! Many were first time patrons to our Fish Fry!.Total served was: 760 meals! Much THANKS to our Volunteers who have worked our Fish Fry for many years. Special thanks to the many new Volunteers who have stepped-up to help St. James and the Knights of Columbus fund their good causes.
Tom & Carol
---
.
February 27th, 2020:
Hello Fish Fryers!!!THANK YOU a Whole Bunch for ALL the help this first week!!! – The dining hall tables are set and the Hall looks great! Fantastic job gentlemen!- Our Baking Leaders and their Crew have done a fantastic job working extremely hard on Wednesday & Thursday getting about 800 delicious desserts ready for tomorrow!- The iPads and the Square register/account system is all set up. Big Thank You to our computer team! Tomorrow, February 28 is Patriotic Day. We will be recognizing the members of Armed Forces, it's Veterans, and Police & Fire 1st Responders for all they do and have done. The Knights of Columbus and Parishioners of St. James are grateful for your service.Fish Fryers — Please wear Patriotic Gear (or red, white, blue) for our first theme night! Looking forward to Friday Opening Night!!
Tom & Carol
---
.
February 22nd, 2020:
Hello Fish Fryers!!! We're down to a week left to GO until the Opening Night of the Lakeshore's Best Fish Fry!!! A BIG Shout Out Thank You to some behind the scene volunteers who have helped set-up and prepare for next Friday. Opening Night does not just "happen" without LOTS of hard work! Our dining hall, kitchen, narthex are set and ready to GO! The fish will arrive on Wednesday and Gordon Foods delivery on Thursday. Team Leaders (cashiers, narthex & dining hall setup, kitchen, baking, breading, carryouts, etc) should walk through their areas on Wednesday or Thursday to address any last minute details. For our first Fish Fry on February 28th, we are welcoming active Armed Forces, it's Veterans and Police & Fire Department First Responders for a $6.00 (1/2 price) meal in appreciation of what they do & have done. Please personally invite any Veteran or 1st Responder to come on over for a delicious 1/2 price meal! Anyone who lives on a busy street is asked to please take a yard sign that advertises our Fish Fry. Signs will be handed out after Fr.Peter's graduation pot-luck dinner on Sunday. Hope to see most of you Sunday!
Tom & Carol Bart

---